St. John's, Eleele #351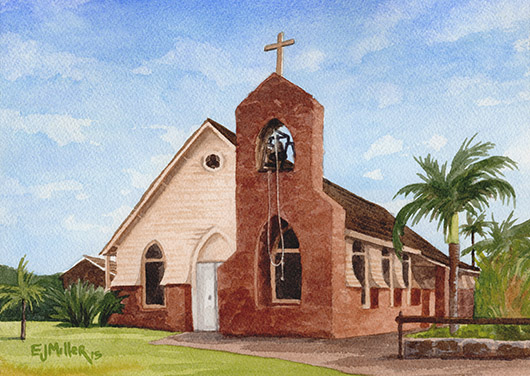 Purchase St. John's, Eleele Art Prints
Commissions will open in July 2023.
5x7 matted to 8x10" Art print
8x10 matted to 11x14" Art print
11x14" Paper giclee
16x20" Paper giclee
Set of 8 Greeting Cards + Envelopes
Single Greeting Card
$4.00
Tags:
church
Plein Air watercolor painting by Kauai Artist Emily Miller
May 2015
Artwork Dimensions (unframed): 8" x 10"
Original painting Unavailable
Although Episcopal services were held on West Kauai as early as 1916, there was no Episcopal Church until St. John�s Church in Ele�ele was completed in 1941.

Shortly following World War II, the Japanese congregation of St. John�s wanted to give something in memory of the men of the 442 Regiment (men from Kauai of Japanese decent) who died in the war. They decided to give a stained glass window of St. George slaying the dragon. The model used for the face of St. George was that of a young local St. John's church member named Richard "Masa" Sako (1924-2004). The inscription on the window is from Malachi 2:10: Have we not all one Father? Have we not One God who created us?

This painting was completed in the studio from photographs, maintaining the looser style of my plein air paintings.
View more:
La'a o ke akua
Kauai churches
Archit­ecture