Kilauea Stone Church #331

Purchase Kilauea Stone Church Art Prints
Orders placed Nov. 20 - Dec. 3, 2023 will be fulfilled starting on Dec. 5, 2023.
5x7 matted to 8x10" Art print
8x10 matted to 11x14" Art print
11x14" Paper giclee
16x20" Paper giclee
12x16" Canvas wrap
18x24" Canvas wrap
24x32" Canvas wrap
30x40" Canvas wrap
36x48" Canvas wrap
Set of 8 Greeting Cards + Envelopes
Single Greeting Card
$4
Tags:
church
kilauea
Plein Air watercolor painting by Kauai Artist Emily Miller
July 2014
Artwork Dimensions (unframed): 8" x 10"
Original painting Unavailable
A view of the classic lava rock facade of Christ Memorial Episcopal Church in Kilauea, on Kauai's north shore.

In 1939 the Kilauea Sugar Company deeded the churchyard to Christ Memorial Church and gave the native stone used in the erection of the present building, consecrated in 1941.

The graveyard surrounding the church dates back to the earliest days of the original Hawaiian Congregational Church, with many graves dating back over 100 years.
View more:
La'a o ke akua
Kauai churches
Archit­ecture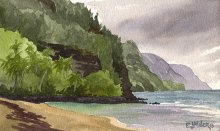 North Shore Kauai
---
You might also like...