Kapu #16

Commissions will open in July 2023.
5x7 matted to 8x10" Art print
8x10 matted to 11x14" Art print
11x14" Paper giclee
16x20" Paper giclee
Set of 8 Greeting Cards + Envelopes
Single Greeting Card
$4.00
Tags:
bananas
tree
Hawaii watercolor painting by Kauai Artist Emily Miller
2002
Artwork Dimensions (unframed): 11 x 14
Original painting Available
Purchase original -
A banana tree hangs heavy with a ripe hand of bananas ready to be harvested.

Most bananas were kapu (forbidden) for women to eat in traditional Hawaiian culture, until the kapu laws were abolished in the early 1800s.
View more: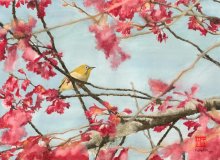 Flora & Fauna