History #319

Orders placed Nov. 20 - Dec. 3, 2023 will be fulfilled starting on Dec. 5, 2023.
6x9 matted to 11x14" Art print
11x17" Paper giclee
22x32" Paper giclee
Set of 8 Greeting Cards + Envelopes
Single Greeting Card
$4
Tags:
sugar mill
lihue
Hawaii watercolor painting by Kauai Artist Emily Miller
2014
Artwork Dimensions (unframed): 18" x 29"
Original painting Sold
This painting of Lihue Mill was conceived and begun in 2011 from reference photographs taken in 2003. Since that first visit in 2003, I explored and photographed this mill many times in the morning and evening, in bright sunshine and under threatening skies, captivated with its changing appearance as it continued to decay and finally became a priority project for demolition.

In 2014, after the main buildings and smokestack were taken down and the usable equipment shipped to a sugarcane processor in the Phillipines, the mill had become a part of history and I made a commitment to finish the painting.

The painting begun in 2011 had a detailed architectural sketch and the first wash of color completed. The majority of the painting was completed in January and February of 2014.

"History" is included in the Art in Public Places collection of the Hawaii State Foundation on Culture and the Arts.
View more: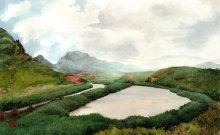 East Side Kauai
Archit­ecture
---
You might also like...