Hihimanu Rain #875

Purchase Hihimanu Rain Art Prints
Commissions will open in July 2023.
5x7 matted to 8x10" Art print
8x10 matted to 11x14" Art print
11x14" Paper giclee
16x20" Paper giclee
12x16" Canvas wrap
18x24" Paper giclee
18x24" Canvas wrap
24x32" Canvas wrap
Set of 8 Greeting Cards + Envelopes
Single Greeting Card
$4.00
Hawaii watercolor painting by Kauai Artist Emily Miller
2021
Artwork Dimensions (unframed): 36" x 48"
Original painting Sold
Acrylic on canvas

The double mountain peak at Po'oku, on Kauai's north shore, is named Hihimanu. It shares its name with the spotted eagle ray, guardian of coral reefs, as the mountain's outline looks just like a ray gliding upwards into the sky. Hihimanu translates to "magnificent".

As I worked on painting the weightless mist of rain behind Hihimanu's double peak, I felt the movement of the clouds and I realized I paint rain and cloudy days because rain is a blessing, a gift of life, a constant, beautiful, powerful flux. As it travels across the mountains and oceans, it brings us new opportunity each moment to bear witness to different aspects of the landscapes we think we know.

The Hawaiian dictionary's definition of rain ("ua") includes the following text: Rain was beloved as it preserved the land; it was called kāhiko o ke akua, adornment of deity. Many rains are named and associated poetically with particular places.

There are over 200 known names for rain in Hawaiian.

Although I don't feel qualified to connect a known rain name to what I've painted here, I know that it does have its own name.
View more: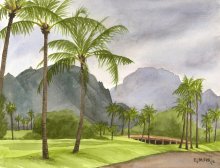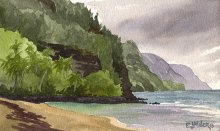 North Shore Kauai