High Tide at Kaluakai Beach #14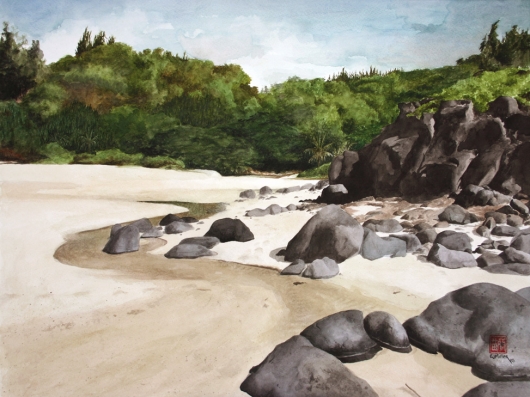 Purchase High Tide at Kaluakai Beach Art Prints
Orders placed May 20 - June 12, 2022 will be fulfilled starting on June 13, 2022.
5x7 matted to 8x10" Art print
8x10 matted to 11x14" Art print
11x14" Paper giclee
16x20" Paper giclee
12x16" Canvas wrap
18x24" Canvas wrap
24x32" Canvas wrap
30x40" Canvas wrap
36x48" Canvas wrap
Set of 8 Greeting Cards + Envelopes
Single Greeting Card
$4.00
Tags:
kilauea
beach
Hawaii watercolor painting by Kauai Artist Emily Miller
2005
Artwork Dimensions (unframed): 24 x 18
Original painting Sold
Kaluakai Beach, on the property of Na 'Aina Kai botanical gardens. At high tide, the ocean waves reach far up on to the sand, creating short-lived pools and rivers.
View more: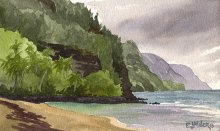 North Shore Kauai