Glimpse of Waipo'o Falls #328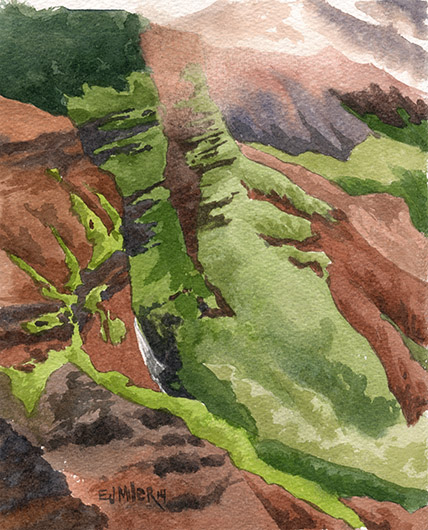 Purchase Glimpse of Waipo'o Falls Art Prints
5x7 matted to 8x10" Art print
8x10 matted to 11x14" Art print
11x14" Paper giclee
16x20" Paper giclee
Set of 8 Greeting Cards + Envelopes
Single Greeting Card
$4.00
Tags:
waterfall
waimea canyon
mountains
Plein Air watercolor painting by Kauai Artist Emily Miller
June 2014
Artwork Dimensions (unframed): 8" x 10"
Original painting on display at
Amy-Lauren's Gallery
, Hanapepe
Inquire to purchase »
A hidden view of Waimea Canyon on Kauai's west side. The bottom section of 800 ft. Waipo'o Falls is visible between the ridges of the canyon. Waves of mist blew through the canyon as we painted.
View more: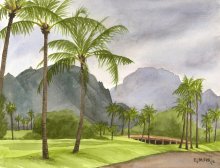 West Side Kauai