Geometry of Shells #100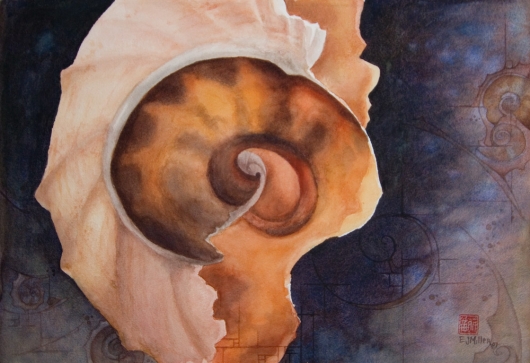 Purchase Geometry of Shells Art Prints
Orders placed Nov. 20 - Dec. 3, 2023 will be fulfilled starting on Dec. 5, 2023.
5x7 matted to 8x10" Art print
8x10 matted to 11x14" Art print
11x14" Paper giclee
16x20" Paper giclee
12x16" Canvas wrap
18x24" Canvas wrap
Set of 8 Greeting Cards + Envelopes
Single Greeting Card
$4
Hawaii watercolor painting by Kauai Artist Emily Miller
2007
Artwork Dimensions (unframed): 17" x 21", framed in koa veneer to 22" x 28"
Original painting Available
Purchase original -
The geometric spiral structure of a pink seashell with part of its shiny interior revealed. I have loved collecting and studying shells all my life, growing up on the coasts of Kauai, California and Maine.

A friend brought this shell to me and I just had to paint it. Seeing into the spiral structure of the shell's core got me thinking about the Fibonacci sequence and the golden spiral - a numeric ratio commonly found in nature and expressed visually as an expanding spiral - the mathematics of beauty.
View more: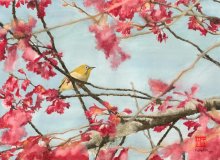 Flora & Fauna