Gazebo on the Lake, Kauai Ranch - Plein Air #168

Purchase Gazebo on the Lake, Kauai Ranch - Plein Air Art Prints
Commissions will open in July 2023.
5x7 matted to 8x10" Art print
8x10 matted to 11x14" Art print
11x14" Paper giclee
16x20" Paper giclee
Set of 8 Greeting Cards + Envelopes
Single Greeting Card
$4.00
Tags:
lake
mountains
Plein Air watercolor painting by Kauai Artist Emily Miller
April 2010
Artwork Dimensions (unframed): 7" x 4.5"
Original painting Available
Purchase original -
Lately it seems like all our outings have been inland to the mountains and reservoirs! This was an incredible spot at a private estate with beautiful views of the misty interior mountains.
View more: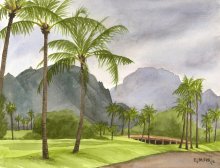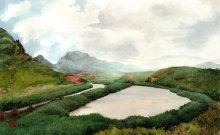 East Side Kauai