Gazebo on the Lake, Kauai Ranch - Plein Air #168

Purchase Gazebo on the Lake, Kauai Ranch - Plein Air Art Prints
Orders placed May 20 - June 12, 2022 will be fulfilled starting on June 13, 2022.
5x7 matted to 8x10" Art print
8x10 matted to 11x14" Art print
11x14" Paper giclee
16x20" Paper giclee
Set of 8 Greeting Cards + Envelopes
Single Greeting Card
$4.00
Tags:
lake
mountains
Plein Air watercolor painting by Kauai Artist Emily Miller
April 2010
Artwork Dimensions (unframed): 7" x 4.5"
Original painting Available
Purchase original -
Lately it seems like all our outings have been inland to the mountains and reservoirs! This was an incredible spot at a private estate with beautiful views of the misty interior mountains.
View more: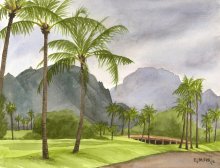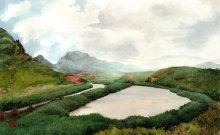 East Side Kauai